Aquatics
Fishes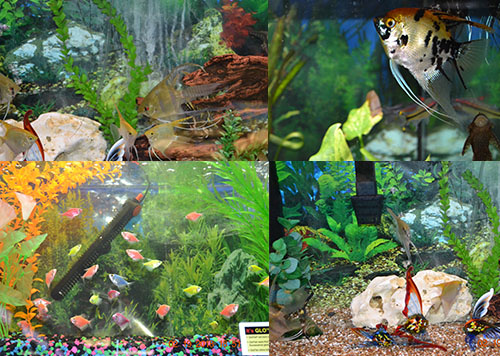 Saltwater
There are several different types of saltwater fish species. They are noted for their dazzling bright colors and distinctive patterns and markings. Some commonly known species include clownfish, angelfish, surgeonfish, lionfish and gobi. Come back to our Saltwater Room, and take a look at our large selection of marine fish and invertebrates.
Freshwater
Take a look at our assortment of tropical fish including: Live-bearers, Tetras, Barbs, Goldfish, African Cichlids (mainly Malawi), Rainbows, Gouramis, and many more. We also carry a variety of aquatic plants as well.
Accessories
We have everything you need to get you started with your own freshwater or saltwater aquarium. Our experienced staff would love to help you select the right accessories you'll need to successfully maintain your aquarium at home or work. Some of our brands include:
Aquaclear
Aquarium Systems
Coralife
Eheim
Elite
Fluval
GLO
Hagen
Hydor
Kent
Laguna
Marina
Marineland
Penn Plax
Tetra
TLC
Lights
A strong, vibrant light is essential to the growth and health of your aquarium. This much you probably already know. But did you know that the average fluorescent tube loses about 50% of its lighting output quality within one year? This results in a distorted spectrum, inefficient plant and coral growth, and less intense fish colors.(Hagen)
Filters
Power Filters
We offer filters from Marineland, Supreme, Penn-Plax, and Hagen (AquaClear & Elite).
Aquariums
We carry aquariums from the following brands: MarineLand, Aqueon and Tetra!